About Ankie
Everyone who knows Ankie knows that she "likes" to say something to introduce herself.

So the honor is mine, Jos, to write a piece for and about her.
Ankie was still young when she first came into contact with Waldorf Dolls. In the natural food shop in Emmen she saw a small Steiner doll and she was immediately hooked. Design and materials brought something to life in her that she had missed until then. She immediately decided to take a course where it soon became clear that she had a lot of talent. After a few months Ankie gave her first own course, now 35 years ago.
From the Waldorf dolls (Zonnekindpoppen) she trained herself in techniques like wool spinning, dyeing, wrapping and needle felting in which she soon also gave courses. In Autumn 2004 an extra ordinary exhibition was set up in her own Atelier with the name "Autumn Festival". A unique collection of figures and shapes related to autumn in a beautiful landscape with wonderful illumination.
After 20 years there was a big change in Ankie's life, a new love and a wholesale business in essential oils and aromatherapy demanded all available attention, so that designing and making dolls disappeared a bit into the background.
The love for Waldorf Dolls and the natural materials always remained, but there were no possibilities for workshops or courses. After the sale of the wholesale bussiness a period of reorientation followed, also in the creative field. Via quilting, a lot of experimenting with textiles of all kinds and a partial training in tailoring, the dolls slowly came back into the picture.
When about two years later twins announced themselves in the family, this was a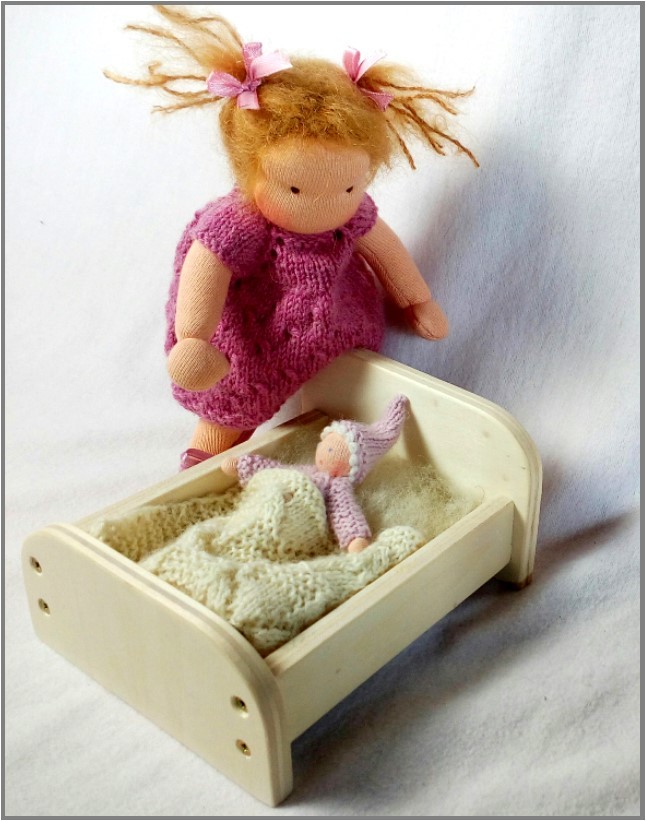 motivation for Ankie to make two cuddly dolls. After that there was no more halt! Knitting, crocheting, sewing, filling, looking, trying, being inspired and inspiring others. Dolls, clothes, shoes, bags, racks, a creative whirlwind.
It didn't take long that people started asking Ankie for workshops and courses again and shortly afterwards there was a fresh start. In 2016 the first courses started and several people from 20 years ago participated again.
During the lessons there is of course a lot to learn in the creative field, but the atmosphere is at least as important and this is inspiring and fun. Ankie enjoys the teaching and the designing of patterns for the clothes and dolls. This is where her inspiration and creativity sparkle and she likes to pass that on.
With the courses and through her web shop, Ankie wants to inspire people to make beautiful and durable toys from natural materials that large and small people can enjoy for a long time.
Jos
Important!
If your country is not in the list when checking out, please let us know in which country you live and we will add it as soon as possible.
Thank You.